If you have any questions or need to save a spot for your pet, call Lea (404) 431-1814 or email me at
tothlea@bellsouth.net
A STRESS FREE ALTERNATIVE FOR BOARDING
Welcome to Hidden Acres Country Kennels, VACATION and Retreat!
Our goal is to provide a convenient, stress-free alternative to boarding your pet in a traditional kennel setting. Not only is this good for your pet but also for you. We will provide your family member with as much love and caring as we do our own four-legged family members.
The sleeping areas are 4'x5' with their own individual 25' outdoor runs. We also have two larger 4'x6' quarters for the larger breeds that require just a little bit more room. In addition, we have a 2 acre area for group play and socialization, complete with a large and small water pool, balls, and other entertainment objects. The kennel building itself is a 34'x20' log cabin complete with a tin roof, that can lull anyone to sleep on a rainy day.
Fully insulated, heat and air provided as the season turns. A front porch for relaxing on, with a beautiful view of green pastures and woods. Your pet will feel right at home with us. We do need to tell you that they might not want to go back home. Our place is relaxing and addictive for pets and people alike.
Recent News
05-08-2017: SUMMER IS ALMOST HERE, BOOK YOUR PETS VACATIONS EARLY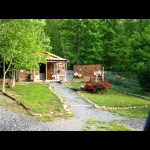 If you have a weekend to get away, a business trip, or taking a family vacation and can't take your pet, reserve your spot here at Hidden Acres before they are all taken. We'd love to treat your dog to their own little vacation. However, it must be noted that they may not want to go home after their stay on the Farm....
05-06-2016: 2015 Rate Changes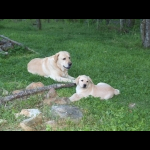 Our rates are changing for the first time in 9 years but not by much. It will be $20 per day per dog. Our hours will be 9am to 7pm Monday through Saturday and Noon to 7pm on Sundays. If you pick up your pet by 2pm the rate is $10 per dog, after 2pm it will be $20 per dog.
I just want to say thank you to all my loyal clients from the past 9 years and I look forward to serving you and your dog in the upcoming years.