Boarding Rates & Information
See Pictures of Previous Boarders
Our hours are Monday - Friday 9am to 6pm, Saturday 9am to 4pm, Sunday Noon to 2pm. Our rates are $25.00 a day per dog.
Please note that during the peak holiday seasons we do require a 3 night minimum stay. Fourth of July, Thanksgiving and Christmas
We ask that you bring enough food for your pet for the duration of their stay. This way their digestive system won't be upset by changing their diet. Also put their name on their bag for easy identification at dinner time.
If you want to bring their own toys or bed, we welcome it. However, we do provide a PetCot bed for each run, inside and outside, that keeps them up off the ground for more comfort.
---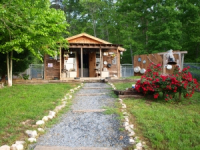 A Reminder About Your Pets
Must be non people aggressive, non pet aggressive, in good health with current proof of vaccinations including rabies and bordetella, and a negative fecal and heartworm check. No fleas. If your pet has fleas, you can give them a Capstar pill to kill adult fleas that are on them. Capstar pills can be bought from your vet clinic or ordered online. Must have a collar with their ID tag on them.
Unfortunately, no un-neutured males, or females in heat will be accepted for the safety of all boarders concerned.
GA Dog Boarding